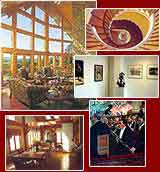 1501 County Route 28
Chatham Center
Valatie, NY 12184

Phone: (518) 392-7701
Fax: (518) 392-5650
Email:




New Lebanon New York
A Marvelous Historic Quilt
View Residential Listings / View Vacant Land / View Commercial Properties

TOWN STATS
Population: 2379 (1990 Census)
Homes: $65,000 - $1 million+
Land: $1,000 - $20,000 per acre
Rentals: Occasional Summer Rentals
Zoning: Residential, Agricultural, Commercial
From Midtown NY: 140 Miles
Rail: Hudson. 2 Hours to NYC
Schools: New Lebanon and Darrow
Topography:Mountain and Valley, with pastures and woods
ATTRACTIONS
Tanner Pond Concerts
Mount Lebanon Shaker Village
Thermal Springs
New Lebanon Speedway
Trout Fishing
15 minutes to Skiing
Antique/Auction Center
15-20 minutes to Theater & Shopping
15 Minutes to Fine Restaurants
Queechy Lake Rights
Right in the foothills of the Berkshires, New Lebanon New York has nearly 21,000 acres of lovely scenery with great views, woods, pastures and rolling hills. Travelers bound for Massachusetts or Vermont often make a special stop to visit auctions and antique shops. Only 13 miles to Jiminy Peak or Tanglewood, it's in the extreme northeast corner of Columbia County, bordered by Stephentown on the north, Canaan to the south, Chatham to the west and Pittsfield to the east. It's a perfect location for commuting to Albany and Pittsfield. When you travel up route 22 onto route 20, you'll cut right through the center of town where there's shopping, restaurants and excellent B&B's. County route 5 leads north from Canaan to Deer Ridge where there are elevations over 1600' and views all the way to Mt Greylock. The first Shakers arrived from England in 1774 to escape religious persecution and soon settled in New Lebanon to form the largest Shaker community in the United States. Lebanon Springs became one of America's most famous resorts because of the mineral spring discovered by the Stockbridge Indians. One of the first settlers, Lucky James Hitchcock, took his celebrated dip in 1756. The spring provided 500 gallons per minute at a steady 73o and everybody who was anybody went to 'take the waters' to cure everything from gout to nervous disorders. You'll experience a sense of timelessness when you visit Mount Lebanon where 50 of the original 100 buildings of the Shaker community are on the National Register of Historic Places. Just off route 22 is one of the cleanest lakes in the entire state of New York. Residents of New Lebanon and Canaan have exclusive lake rights for fishing and swimming and can launch boats from a special ramp. To fully appreciate the area, take your time and stay at one of the many B&B's in town ...from the Shaker Meadows B&B to The Inn At Silver Maple Farm, to the Churchill House. Then stop in for wood-fired pizza at Fresco's. Fine restaurants such as Mario's start right in town and extend into the Berkshires just minutes away. For a change of pace, a short hop across the border puts you right at the Lee Outlet Center where you'll find fashions from Polo to Ann Klein II, from Etienne Aigner to Jones Country. Discover Mikasa, Movado, Harry and David and others. The quality of life is everything you could want, right here in New Lebanon New York.