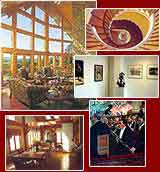 1501 County Route 28
Chatham Center
Valatie, NY 12184

Phone: (518) 392-7701
Fax: (518) 392-5650
Email:




Real Estate in Berkshires Massachusetts
More than a century ago, wealthy families from New York and Boston took some Berkshire County real estate and built "summer cottages" in the Berkshires. These are the same country estates that earned Berkshire County the nickname "inland Newport." Today many of the surviving mansions have become fine inns or museums, or have had their grounds converted to outdoor venues for performing-arts groups such as the Boston Symphony Orchestra. If your in the market for real estate in the Berkshires, contact SFL Realty and we'll work to find what you're looking for. Berkshire County is home to some of the finest homes in western Massachusetts.
Search the MLS/IDX for Berkshire County
Updated: 11/18/2017