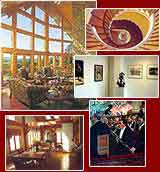 1501 County Route 28
Chatham Center
Valatie, NY 12184

Phone: (518) 392-7701
Fax: (518) 392-5650
Email:




Canaan New York
A Town Untouched By Time
View Residential Listings / View Vacant Land / View Commercial Properties

TOWN STATS
Population: 1773 (1990 census)
Homes: $100,000 - $2 million+
Land: $5- $20,000 per acre
Rentals: Occasional summer rentals
Zoning: Residential, Agricultural, Commercial
From Midtown NY: 135 Miles
Rail: Hudson. 2 Hours to NYC
Schools: Chatham Central and New Lebanon
Topography:Mountainous (traversed by Taghkanic range) with woods and rock outcroppings
ATTRACTIONS
Queechy Lake rights
8 miles to Tanglewood
15-20 minutes to skiing
15-20 minutes to Theater & Shopping
15 minutes to Fine Restaurants
Some parts of Canaan New York were settled as early as 1750. Tucked away in the northeast corner of Columbia County and nestled in the Berkshires, Canaan is noted for crystal-clear Queechy Lake, marvelous countryside, and a simple, laid-back lifestyle. Canaan is right on the Massachussets border and residents find itís a perfect location for Albany and Pittsfield commutes, shopping, schools and entertainment. Residents have two high-ranking school systemsóChatham and New Lebanon. In this unpretentious little town youíll find original Saltboxes, grand Colonials, horse farms and estates. Names of famous settlers, such as Barstow, Whiting, Warner and Frisbie appear on maps to this day. If you want a good appreciation for the area, take your time and be sure to stay at The Inn At Silver Maple Farm. Imaginative breakfasts and warm hospitality will tempt you to extend your visit. Stop in at Joe and Gailís Canaan Market, and pick up a picnic lunch and home-made pastries. Then, step back in time. and explore some of the completely charming back roads. But if itís views youíre looking for, thereís a treat in store for you. Mercer Mountain is right in the heart of Canaan NY. Drive up a private road and youíll get heart-stopping views of the Berkshires and Catskill mountains. Elevations are up to 1800í and the air is so pure youíll want to bottle it. Even with all there is to see in this charming town you still wonít have much driving to do because Canaan measures only 7 miles on its longest side. Queechy Lake is a beautiful focal point in the town and itís an uncluttered haven. Residents picnic or fish on pontoon boats, or swim from an immaculate sand beach. In the winter youíll find many hardy souls ice fishing there... even in the coldest weather. Small as it is, Canaan is a quiet town that has attracted a significant but hidden population...second-home owners from the metropolitan area.