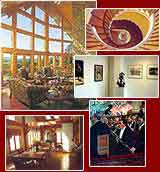 1501 County Route 28
Chatham Center
Valatie, NY 12184

Phone: (518) 392-7701
Fax: (518) 392-5650
Email:




Chatham County Real Estate (NY)
An Eclectic Mix: Farms and Fairs, Horses and Hounds
View Residential Listings / View Vacant Land / View Commercial Properties

TOWN STATS
Population: 4413 (1990 census)
Homes: From modest farmhouses to large Colonials , to Equestrian Estates
Land: $5,000 - $30,000 + per acre
Rentals: Village Apartments. Seasonal home rentals available
Zoning: Residential, Agricultural and Commercial
From Midtown NY: 120 Miles
Rail: Hudson. 2 Hours to NYC
Schools: Chatham Central
Topography:From Mountainous to level with rolling hills
ATTRACTIONS
20 Minutes to Tanglewood
25 Minutes to Catamount
Trout Fishing, Hunting
Summer Stock
Shaker Museum
Old Chatham Hunt Club
PS/21
TOWN LINKS

Chatham NY, the gem of Columbia County. If you're driving up the Taconic State Parkway, exit at Route 203 (Chatham/Austerlitz) and hang a right. Just over the hill, and two miles away, you're in the village. Dating back to the late 1700's, Chatham has 53.3 square miles, making it the largest town in the county. The town itself is formed by many small hamlets, each with its own distinctive personality. One hamlet may be farm-like, dotted with with orchards. Another may have riding and hunt clubs. Another, a community for commuters. Another, with an amazing panoply of historic estates. In Old Chatham, the largest collection of Shaker artifacts in the world is housed in the Shaker Museum and is a major international attraction. Nearby is the Old Chatham Sheepherding Company which has the largest operating sheep farm in the country. The land ranges from undulating hills, to woodlands, to streams and ponds. One of the most famous trout streams in New York is the Kinderhook Creek which runs through several hamlets. On opening day you'll see intrepid men and boys with fly rods and hip waders testing the chilly waters. When we first explored the Chathams, we thought we'd never find our way out of the labyrinth of hamlets. We encountered Chatham Village, Chatham Center, North Chatham, Old Chatham, East Chatham, Malden Bridge, New Concord, Rayville and Rider's Mill. The village itself is a homey and inviting amalgam of specialty shops, coffee houses and an old-fashioned movie house showing first-run films. There is even The Chatham Film Club, showing foreign and fine art films. The annual Chatham NY Country Fair, which runs the entire Labor Day week, has become a fixture for visitors and residents alike, featuring everything from pie-judging, food booths, games, rides, music and 4H competitions with livestock ranging from lambs to llamas, from hens to Herefords. The centerpiece in town is the original railroad depot. Well into the 1900's there was a very active passenger trade and was an important stop on the Boston Albany line and others, bringing tourists and vacationers to this area. Today, the beautiful old stone landmark train station is home to the Kinderhook Bank.